The wedding is over – the day you had been planning for months ended on a good note for everyone. You breathe a sigh of relief, taking off the well-fitting and stylish wedding gown and hanging it where keep your other clothes. Hang on!
Are you seriously going to just hang your expensive wedding dress like a common clothing item? It's not as if you're going to wear the item again anytime soon. Plus, imagine the storage space the enormous dress will take! It will need its own closet just to breathe properly.
Wedding Dress Cleaning and Preservation to the Rescue
Wedding dress preservation is the best way to retain originality of your dress. You can choose this option whether you wish for setting it aside for sentimental value or the possibility of passing the dress down to your future daughter.
Cleaning and preserving will help retain original color, fabric, and shape of your wedding dress. But how is this done?
Wedding Dress Preservation – What Is It
This service is usually offered by local dry cleaners, in addition to wedding dress alterations. The preservation method offers special cleaning and packaging techniques by which the wedding gown retains its original beauty.
Visit International Professional Cleaners for a consultation. A professional preservationist will survey the clothing item – materials, embellishments, fabric etc. Various stains marring the dress will be noted, and then cleaned with a specialized cleaning procedure.
Your wedding dress cannot be preserved before undergoing detailed cleaning as it's one of the most important steps of the entire process! Wine stains are sugar based which turn brown (and permanent) when not handled immediately.
When to Preserve a Wedding Gown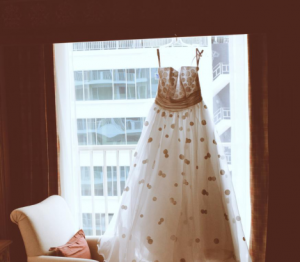 The right time to preserve your wedding gown is to do it immediately. However many women wait until after their honeymoon to take their dress to the professionals. Existing stains can set in during this time, making removal difficult.
Waiting a long time for dress cleaning and preservation can also mean you might have to ask for restoration services as well. 

After careful cleaning and removal of mud or wine stains from the dress, the preservationist will wrap the item in acid-free tissue paper and place in a museum quality archival box. This final step prevents air and bacteria from ruining the dress, retaining its original look for as long as inside the box.
You can also choose to display your wedding dress in the same fashion. Call us today and find out what we charge for a complete dress cleaning and preservation today!